Posted on April 5th, 2010 by Bonnie Petrie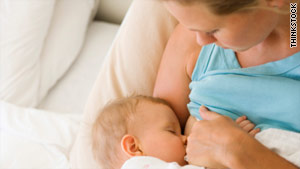 This can be a touchy subject in Mommy World, so I want to be careful…
There is a new study published in the journal Pediatrics, according to CNN:
If most new moms would breastfeed their babies for the first six months of life, it would save nearly 1,000 lives and billions of dollars each year.
I don't care for the way that's written. "If most new moms would breastfeed" sounds like scolding. And since the CDC reports that only 74% of new moms even try nursing, it's scolding a lot of loving and well-intentioned women.
Despite my problem with the tone of that statement, however, I have no trouble believing those numbers. I have interviewed eleventy billion experts who say that while formula is indeed "nutritionally sound", it's not mother's milk.
They call the first doses of mother's milk your baby eats liquid gold. Colostrum comes in small doses, but packs a huge punch. Not only does your colostrum provide the exact things your specific baby needs for optimum health, it does a bunch of other things, like coat and seal your baby's GI tract, decreasing eventual allergy risks.
And, in fact, your milk evolves with your baby. When you nurse, you and your baby are interacting on a biological level. Your baby's saliva on your skin is telling your body "Hey, Mom, I need a little more of this and a little less of that." The composition of the milk you make changes in response to that.
Mother's milk is a designer product!
Formula is nutritionally sound. But it's not a designer product. It can't be. It would cost a jillion dollars if it was!
You also can't underestimate the value of early nursing to the cognitive and emotional development of your baby in a way that has nothing to do with milk. The closeness, the skin-to-skin contact, the actually physical connection you make with your baby on a sometimes exhaustingly frequent basis encourages healthy attachment. I'm not talking about the mother-infant bond, here. You and your baby will be bonded no matter how you choose to feed them. Attachment is a much broader concept that includes all aspects of child development.
Nursing encourages secure attachment beautifully.
This is not to say formula fed babies cannot be securely attached! My daughter was combo-fed (formula and human milk) and is quite securely attached. Nursing moms can also be insecurely attached to their babies. Every mom and baby are different.
It's just that nursing is one nice and effective way to foster secure attachment.
I'm so very glad the article doesn't go much further into the scolding area of this debate. One of the study's authors, Harvard Dr. Melissa Bartick, says:
Moms shouldn't be blamed, because they receive mixed messages and often lack support from the moment their babies are born.
Ain't that the truth! And…
(Bartick) says the biggest priority should be to improve maternity care practices. Bartick refers to a 2007 CDC survey of hospitals and birthing centers, which scored each facility to determine how well it complied with recommendations meant to encourage women to breastfeed.

According to that survey, Bartick says, "U.S. hospitals scored a 63 – that's a D."
Hear, Hear! I am all about improved maternity care!
The point I'm trying to make out of all of this meandering is this. We all know breast is best. Blah blah blah. We've heard it until we don't even hear it anymore. But the fact is, mother's milk is superior to the nutritionally sound alternative of formula for so many reasons.
So for the 26% of you who aren't even thinking about trying it…why not just consider — just consider doing it for a few days, a least until your baby has a body full of colostrum?
You can do anything for a couple of days, right?
That is my challenge to you…<3
Related Podcasts: