Posts Tagged 'Child Safety'
Posted on July 28th, 2010 by Erin Turnley
It is true, there is nothing more sweet smelling than that of your baby's soft skin. It's almost edible! Doesn't it seem crazy, then, that the baby-care industry topped $815 million dollars in 2007 and is continuing to climb at an aggressive rate? Speeding this sector right along is the trend towards "natural baby care," which began in the more natural and co-op type markets but has quickly come mainstream with major manufacturers joining in (think Huggies, Johnson & Johnson, etc.)
Last year, independent testing found that more than 60% of all baby skin care products tested contained ingredients that had links to skin allergies and cancer. According to the group that conducted the research, the Environmental Working Group, some of the chemicals are banned in Europe, such as 1,4-Dioxane. However, the U.S. has no federal limits on how much of this ingredient can be present in personal care products, even when marketed for use on babies!
There is some good news. According to pediatrician Alan Greene, M.D., author of Raising Baby Green, you can skip products all together during your baby's infant stage. " A gentle sponsge bath with warm water works fine for baby's sensitive skin." When your baby is ready to graduate into baths that require a little bit more "cleaning" or "elbow grease," there is hope. Following his advice, look for brands that have organic ingredients. A rule of thumb is that anything you can't pronounce probably shouldn't go on your baby's skin. Another couple of ingredients to avoid are paraben preservatives which include sodium lauryl and laureth sulfates and lastly, mineral oil. Lastly, babies sense of smell is ultra sensitive at birth, partly because they are programmed to decipher the familiar scents of mom, dad and siblings; so skip the fragrance!
Posted on February 1st, 2010 by Bonnie Petrie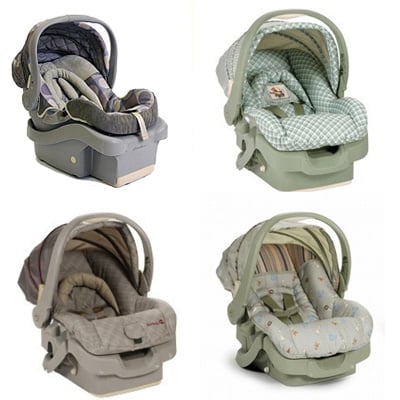 On Friday, December 18, 447,000 popular infant car seats were recalled by the U.S. Consumer Product Safety Commission, the National Highway Traffic Safety Administration, and the Dorel Juvenile Group, Inc. The recall came after 77 separate reports were made about faulty bolts on the child restraint handles of over 40 different models. Loose bolts caused the handles to partially — or in some cases fully — break loose from the car seat base, causing injuries to at least three babies.
Wondering if your car seat is involved in the recall? Here's the full list:
Child Restraint Model # – Product Descriptions
Safety 1st
22-057 DBY – Safety 1st Sojourn Travel System
22-085 DWA – Safety 1st Sojourn Travel System
22-057 CLN – Safety 1st Sojourn Travel System
22-057 HRT – Safety 1st Sojourn Travel System
22-322 HRR – Safety 1st Sojourn Travel System
22-322 PTK – Safety 1st Sojourn Travel System
22-057 LPH – Safety 1st Sojourn Travel System
22-085 LYN – Safety 1st Sojourn Travel System
22-322 KDL – Safety 1st Eurostar Travel System
22-322 LXI – Safety 1st Eurostar Travel System
22-322OLY – Safety 1st Eurostar Travel System
22-322PRS – Safety 1st Eurostar Travel System
22-322 MAI – Safety 1st Eurostar Travel System
22-325 COB – Safety 1st Eurostar Travel System
22-095 RBK – Safety 1st Explorer Travel System
22-380 LGA – Safety 1st Lite Wave Travel System
22-380 MSA – Safety 1st Lite Wave Travel System
22-627 WAV – Safety 1st Vector Travel System
22-325 PAC – Safety 1st Vector Travel System
Cosco
22-300 FZN – Cosco Sprint Travel System
22-300 OSF – Cosco Sprint Travel System
22-300 CSF – Cosco Spirit Travel System
22-300 JJV – Cosco Spirit Travel System
22-300 THD – Cosco Spirit Travel System
22-300 TWD – Cosco Spirit Travel System
Disney
22-627 AWF- Disney Propack Travel System
22-355 LBF – Disney Propack Travel System
22-305 NAB – Disney Propack Travel System
22-305 PPH – Disney Propack Travel System
22-355 PWK – Disney Propack Travel System
Eddie Bauer
22-627 CGT – Eddie Bauer Adventurer Travel System
22-627 FRK – Eddie Bauer Adventurer Travel System
22-627 SNW – Eddie Bauer Adventurer Travel System
22-627 WPR – Eddie Bauer Adventurer Travel System
22-627KGS – Eddie Bauer Endeavor Travel System
22-655BYTE – Eddie Bauer Endeavor Travel System
What you can do now: If you own one of the recalled infant carriers, stop using yours immediately and order a free repair kit now by heading to the Dorel website or by calling Dorel directly at (866) 762-3316 between 8 a.m. and 5 p.m. EST Monday-Friday.
Don't forget, you can get your car seat installation checked out for FREE! Go to http://www.seatcheck.org to make an appointment.
Click here for more about choosing the right baby gear for your baby.
Posted on January 15th, 2010 by Bonnie Petrie
Maclaren is recalling the following strollers:
Triumph
Quest Sport
Quest Mod
Techno XT
Techno XLR
Twin Triumph
Twin Techno
Easy Traveller
Maclaren says infants and toddlers can cut or even amputate their fingertips in these strollers. They confirm 12 fingertip amputations across the country.
The stroller company has much more on this recall here, and they are offering a repair kit.
To keep track of recalls on baby gear you may have bought, or may be thinking about buying, you can surf on over to the Consumer Product Safety Commission's website here.
We also have a podcast to help you figure out what kind of baby gear you absolutely need, and what you may not need, in our Pea in the Podcast: Baby Gear.
Posted on August 7th, 2009 by Bonnie Petrie
One gray morning last week my daughter and I were in a terrible car accident.
My beautiful four year old and I careened off the road at between 60 and 70 miles an hour. We launched through a guardrail and began to roll. I don't know how many times.
Then, in a quiet field in rural Texas, motion stopped.
Most of this I know because it has been told to me. I have been told that my car and another collided along the highway. We were traveling the speed limit, but that was fast. I lost control of my SUV.
I lost control.
My baby was in the car.
I remember snapshots. Frozen images on which I fixate. I can't remember what came before. I can't remember what came after. So I loop what I remember until I realize my heart is racing, I'm drenched in sweat and I've lost my breath.
I see a guardrail. I think of my baby. I see an airbag. The fabric has a pattern on it. I think of my baby. I smell something acrid like gunpowder. I think of my baby.
The car rests. There is a shower of blood.
I think of my baby.
"Baby, are you okay?" (Please God, please let my baby be okay)
"I'm okay, mommy!"
I turn to see the eager face of my saucer-eyed child. It looks…it looks like she might really be okay!
She didn't have a single scratch on her. Not one. Her perfect pink skin remains unbroken. Unblemished. Unbruised.
The blood was all mine. Thank God. I am recovering from a head and hip wound after being taken by helicopter to the hospital, but I, too, am okay.
This is what remains of my SUV.
How is it even possible that my daughter was unhurt?
She was firmly strapped into her car seat with its five point harness. That car seat was tightly connected to the "latches" embedded in the rear seat of the car. It was positioned in the center.*
I am not one to advertise for a particular brand of car seat (unless they're paying me obscene amounts of money lol. Not the case here). The National Traffic Highway Safety Administration says "all car seats rated by NHTSA meet Federal Safety Standards & strict crash performance standards." You can evaluate the safety of the car seat you've chosen for your child here. I don't think you have to go deeply into debt to get a safe car seat for your baby.
That said, my child was protected by her Britax Marathon. Her head does not yet reach the top of this particular child safety seat, and the sides seem to surround her. I think that may have shielded her from the variety of things that were flying around as we were rolling.
But I believe the most important contributing factor to my daughter's survival of this devastating crash was the proper installation of the seat, and the fact that she was properly strapped in. In fact, a police officer has told me as much. But this is not as simple as it seems.
The good folks at SeatCheck.org tell us 7 out of 10 kids in child safety seats are not buckled in properly. The NHTSA tells us motor vehicle crashes are the leading cause of death for children between 2 and 14 years old. I think that is reason enough to check your car seat. Make sure it's properly installed. Make sure you know how to buckle your baby in correctly.
You don't have to figure this out on your own.
The NHTSA knows who the experts in child safety seat installation and use are where you live, and they have a searchable database. It wouldn't hurt to stop by and let the experts help you out.
This isn't the first time we at Pea in the Podcast have talked about child safety seats, and it probably won't be the last. Hopefully it will be the last time I will share such a personal story with you about the importance of car seats and proper installation.
Please, take another look at the picture at the top of this blog posting. The newspaper photo.
That's my car.
That's my baby.
Alive. Amen.
-Bonnie
*Several smart parents have informed me that many cars do not have "latches" for center positioning, so please check your owner's manual before latching your car seat in the center.
Posted on April 2nd, 2009 by Bonnie Petrie
Research has long suggested that it is safest to keep your child rear-facing in their carseat for as long as possible, and now the American Academy of Pediatrics has officially recommended doing so until they are at least two years old. Yay!
The fact of the matter is that in most crashes, if their carseat is forward facing, a baby's head will snap forward. Before they're two, their neck muscles simply aren't strong enough to withstand that kind of force in a violent crash.
The result can be a broken neck.
Toddlers younger than two years old are 75% less likely to die or experience serious injury when rear facing.
Many parents turn their children early because their legs grow longer than the seat. Don't worry, little ones are generally perfectly comfortable back there with their legs crossed. Some say their child is miserable, so they have to turn them. Try bringing along a box of novel toys or other neat little distractions for your roadtrips. Perhaps some music they really like, too. But please don't turn them before they're strong enough.
My daughter was more than two years old before I turned her. I'm so thankful I made that choice, even though we never crashed. Because what if we had? And what if it broke her neck?
What if?
For more on carseat safety, head on over to the AAP's Car Safety Seats: A Guide for Families 2009.
Drive safely!
-Bonnie
Posted on November 26th, 2008 by Bonnie Petrie
That's a headline of a recent article in the Houston Chronicle. It says…
At least 198 children died after a parent rolled over and accidentally smothered a child sleeping in bed with them between Sept. 1, 2007 and Oct. 31 (2008), according to statistics released by Texas Child Protective Services today.

Of those deaths, 170 occurred since Jan. 1 of this year compared to 78 child drowning deaths.
That's some scary stuff, right? I do not like those numbers. I do not like them at all. They're enough to make a mom who co-slept want to buy a wig and dark glasses and join the witness protection program. Good thing I don't know any.
Um….sigh….oh, well…I might as well admit it…..
My name is Bonnie, and I co-slept with my infant.

First things first. I am not advocating co-sleeping or bed-sharing or any other term used to describe bringing an infant to bed with you!.
I am just sharing my experience.
When I was pregnant, I had a lot of big ideas about how my baby would sleep. We bought a big, beautiful crib, and — just in case — we got one of those little snuggle nest sleeper thingies for if she wouldn't sleep in her crib sometimes. I had all my bases covered!
Then we brought her home.
From the first night, my girl wouldn't sleep in her crib, she thought the snuggle nest was vile, and would only sleep in my arms. So that night, that's how we slept, when we slept. My baby, in my arms, generally with a boob in her mouth (what can I say, this is a blog for mommies…I'll be talking about my boobs sometimes). I did not know this is the way it would be for months, but there you go. That's motherhood.
My baby was very colicky, and didn't sleep much. I tried swaddling, I tried bouncers, I tried her stroller…I tried everything, short of Jack Daniels. She would only sleep in my arms.
So that's what we did.
I found, when I slept with my infant next to me, I was constantly aware of her presence. I really didn't move much at all with her in my bed. That was bad news for a mom in her thirties. Boy was I stiff every morning! But she was safe. I found it so easy to feed her in the middle of the night when she was right there, and my boobs were right there (we won't mention the time I dozed off and she lost my nipple and I woke up with an infant sized hickey on my breast). However, when she was a couple of months old I decided to try a different kind of seat that would elevate her head slightly. I put that in her crib, and — with her reflux tamed — she started to sleep on her own.
But the fact remains, we co-slept, we co-slept carefully, and it worked for us.
Now, not only am I not advocating co-sleeping, but I will include a disclaimer I already put in another post on this blog.
The American Academy of Pediatrics says don't co-sleep. No way. No how. It's not safe. Period. It does, however, suggest your baby sleep in your room with you for a year, in a crib right next to your bed, if possible. But not in your bed. No way.
Are we clear?
But I know many of us are going to bring our baby to bed with us at least once. Can it be done safely? Ever?
Many experts say yes.
Notre Dame has an entire Mother-Baby Behavioral Sleep Laboratory. It does advocate co-sleeping. It advocates for it quite persuasively here. It links to a pamphlet with advice on how to do it safely. There is just a ton of valuable information on co-sleeping — and co-sleeping safely — here.
Experts say don't co-sleep if you've been drinking. Not even one. Don't co-sleep if you're taking any kind of medicine that would inhibit your ability to operate heavy machinery. Don't co-sleep in a bed with a bunch of pillows and blankets. Don't co-sleep with your baby between you and the wall…in fact, pull your bed away from the wall. Never co-sleep in a waterbed, a recliner, on a futon or a sofa. There are other things to think about, and here are some tips for safe co-sleeping, if you think you may do it, even once.
You could also arm yourself with one of those side-car "co-sleepers". I've never tried one, and they're pretty spendy, but many moms swear by them and they seem like the best of all worlds.
Back to the Texas CPS story. I would love to read more info about these numbers. I wonder if, in some cases, the "overlay" occurred because someone had had a drink, or a Benadryl, or was simply fatigued beyond all reason. Maybe they were co-sleeping in a recliner, or on a sofa, or in a bed pushed against a wall and covered with pillows. I don't know. I'm not an expert. I'll leave that to the folks at Notre Dame. But how simply awful. I cannot imagine being that mom or dad.
That's why, as with any choice we make as parents, we have to arm ourselves with the best information we can find from the best sources we can find, and go from there. Particularly in a situation like this, when the stakes are so high, you know?
Now, I know this post is bound to stir up a little controversy, and again, I am not advocating co-sleeping!
I'm sharing my experience, as a regular mom, just like you.
Now where are those dark glasses?
***Update 4/09 – Here is an excellent example of how people can play with numbers to make it sound like they got a completely different result than they actually got.
For much more on the challenges — including sleep challenges — you may face in your baby's first year, please listen to our Pea in the Podcast on Baby Boot Camp.

-Bonnie