Archive for February, 2010
Posted on February 24th, 2010 by Pea In The Podcast
Thanks to Mikki Morrissette for her wonderful comments about Pea In The Podcast on her website:
"The Pea in the Podcast is one of the best I've seen for women in the waiting-to-deliver room."
ChoiceMoms.org was created as a resource for women who for whatever reason find themselves a single parent. Subjects covered by the website include trying to conceive, becoming a new mom and resources for being the best parent possible. There are several upcoming events in different cities which are "designed to connect like-minded women who are thinking, trying, waiting, being or becoming single mothers by choice."
Posted on February 23rd, 2010 by Pea In The Podcast
According to March of Dimes, over twenty percent of women experience some form of depression symptoms during their pregnancy. Treatment for these symptoms is very important to ensure the safety of the mother and baby. However, some anti-depressants are known to have negative side-effects for pregnant women. No wonder the blogosphere has been abuzz lately with news that depression during pregnancy may be offset by acupuncture treatments. A recent study from Stanford University School of Medicine found that women treated with depression-specific acupuncture had a 63 percent response rate compared to a 44 percent response rate in women treated with control acupuncture or massage. Dr. Shari Lusskin, director of reproductive psychiatry at the New York University Langone Medical Center, while excited about the new findings mentions that this is not an end-all cure. "This is one treatment, and perhaps it will become another possible treatment tool in our therapeutic toolbox," said Lusskin. "Acupuncture is not a substitute for the appropriate use of antidepressant therapy especially in women with a prior history of response to antidepressants."
Posted on February 22nd, 2010 by Pea In The Podcast
Who doesn't love cute maternity shirts? During pregnancy you should wear comfortable clothes – but why not have a little fun as well? Check out our list of the top 6 funniest maternity shirts and mix a little humor into your maternity style.
Does This Shirt Make Me Look Pregnant?
If you are one of those women who is constantly asking their significant other if their pants make them look fat, then this is the maternity shirt for you! Hit two birds with one stone and have a sense of humor while still informing people that the extra poundage is due to your pregnancy status. Ok, part of it might be all those midnight craving, but that's our little secret.
It's Not Over Till The Fat Lady Screams
A funny twist on a classic quote. Though it might be a constant remind of your impending doom, this shirt will plaster smiles on everyone you meet.
Don't Touch…The Baby Knows Karate
One of the most common complaints from pregnant women may come as a surprise to those of us who haven't experience pregnancy. You may think it's the morning sickness or the mood swings. Surprisingly, many women complain about the fact that people touch their expanded bellies without asking! This shirt is a cute way to tell people to back off in the nicest way possible.
You Can't Scare Me, I'm Having Twins!
This maternity shirt is perfect for those of you who are pregnant with not just one bundle of joy, but two. Preparing to have a baby can be a little bit nerve-racking. But if you can handle twins, there ain't much that can rattle you. Sometimes people just need to know who their up against – for instance, while battling it out for a decent parking spot.
I Can Grow People. What's Your Superpower?
What a great way to think about the miracle of pregnancy! Sometimes a superhero is the last thing you feel like when your feet are swollen and your walk is more of a waddle. Sometimes it takes something as simple as a cute maternity shirt to remind us of the amazing feat we are actually achieving by having a baby.
Oops!!!
This is by far the funniest maternity shirt I have seen in a while! While slightly controversial, anyone who sticks their nose up at this one just has no sense of humor. We all know accidents can happen – hopefully they turn out happy in the end. But this is a great play on the humor of those kinds of situations.
Posted on February 18th, 2010 by Pea In The Podcast
A lot of buzz has been going around about Olympic curler Kristie Moore, who is competing while five months pregnant. Kristie, who found out she was pregnant just a few weeks before being invited to comete for the Canadian team, will be the first Olympian in 90 years to compete while pregnant. Some websites such as MomLogic express concern for her health and question whether her motives are selfishly putting the baby at risk. Their OB/GYN, Dr. Suzanne Gilberg-Lenz, commented on the subject saying that the sport is probably the safest choice for a pregnant woman to be participating. Exercise is obviously very healthy for women who are expecting. It's simply a matter of judging whether the activity is safe. There might not even be an issue, seeing as how Moore's position on the team is an alternate, which means she only plays if another player is injured.
Take our poll:
Posted on February 17th, 2010 by Pea In The Podcast
Just found a very interesting, in-depth article about the benefits of breastfeeding at babycenter.com. The article, which is reviewed by the BabyCenter Medical Advisory Board, is organized into sections that describe each health benefit in detail. Among the commonly-known facts, there are few interesting pieces that some people might not be aware of. For instance – did you know that breastfeeding helps you lose weight? And not only does it help you slim down, but it may protect against obesity later in your baby's life.
Of course every piece of good news comes with a dose of reality. According to The American College of Obstetricians and Gynecologists, "breastfeeding leads to the release of hormones which enable your uterus to return to its normal size. However, breastfeeding alone won't bring down your weight. You need to combine it with a sensible diet and a moderate exercise program." Getting in some exercise shouldn't be too much a problem for new moms -I'd recommend investing in a good stroller and take your baby out for walks when the weather is nice.
Read more about the benefits of breastfeeding at Baby Center.
Find more information about breastfeeding and bottle feeding in our free podcasts:
Breastfeeding Tips and Hints: Advice to Make It Work For You
Bottle Feeding: Whether It's Formula Or Breastmilk, How To Prepare For The Bottle
Posted on February 16th, 2010 by Pea In The Podcast
You've seen the doctor and you've read every baby and pregnancy book out there. What next? Who says you can't have a little fun with this incredible nine-month long journey. Use these iPhone apps to help keep track of all of your pregnancy details from date of conception to the birth of your newborn.
1. Pregnancy Tracker

Keep track of your baby's development – and your fast-growing belly – week-by-week, read the latest posts from the WTE message board community, get daily tips for each day of your pregnancy, and more!
Due-date calculator
Week-by-week details on your baby's amazing growth and development
Weekly baby illustrations
Updates on your changing body
Slideshow of your belly pictures
Countdown to your due date!
2. NineMonths – Contraction & Movement Timer
Ninemonths is an app that will come in handy towards the end of your pregnancy because it tracks movement and contractions. From their website: "Designed under the supervision of a board certified OBGYN Dr. Herbert S. Coussons. Our goal was to build an extremely simple to use application that computes results in a form that can be read directly to your medical team. Clinical beta testing has produced fantastic results and we are excited to release NineMonths to all mothers/fathers to be."
3. Baby Tracker: Nursing
New moms, listen up! Looking for a quick and easy way to keep track of your nursing sessions? This iPhone app will save you time and trouble with a timer and log to keep track of your nursing session details.
4. Foods to Avoid When Pregnant

As we discuss in our nutrition podcast, what you eat during pregnancy is very important. Use this handy iphone app to help you make the right nutrition choices for you and your baby.
5. Pregnancy Calendar
Keep track of your weight during pregnancy, get week by week pregnancy progress updates and even create a birth plan! This app helps you prep everything you need for your trip to the birthing room: medical information, what you want to bring, people to contact, etc.
Posted on February 14th, 2010 by Pea In The Podcast
It can be argued that pregnancy is one of the most exciting times in a person's life – and not just women. This is a time to be celebrated, when a couple can bond over the experience of planning to bring a new little life into the world. It's no surprise that this also a time where couples choose to take a vacation – one last trip before their lives change forever. The concept of a "babymoon" is becoming something of a trend these past few years among expecting couples. One last vacation before "the happy couple" becomes "the happy family."
Check out our podcast for more information on how to pick the best time to take a babymoon and how to find the best destination for your needs.
Posted on February 10th, 2010 by Pea In The Podcast
It's Valentine's Day again and love is in the air. If you have a new baby in your life, this year is extra special. Don't let this holiday pass without checking out our cheat-sheet for sweet, simple Valentine's gifts for babies and giving St. Valentine the proper introduction to your little one.
5. Lucky Brand – Pop Hearts One Piece
What better to introduce your baby to the world of love than a super-cozy onesie from your favorite denim company, Lucky Brand? Your baby will not only be stylish but "sharing the love" with messages of peace and hope featured prominently on the belly.
4. Love You Forever
A personal favorite book of mine since I was a wee one, this book is a must-have for any new parent. This little treasure is a quick read and features a beautiful message of the "enduring nature of a parent's love."
3. Heart-Shaped Teething Pendant
No, it's not a necklace for the baby – it's a necklace for you! Made of teething material that's safe for the baby to chew on, this heart-shaped pendant a double duty gift!
2. Valentine's Day Craft: Heart Mobile
Send your little Valentine off to neverland with a homemade heart mobile. Grab a pair of scissors, string and some glue and you've got yourself the perfect Valentine's gift for your little bundle of joy.
1. Cupid Shot Daddy Bib
It doesn't need to be Valentine's Day for this adorable bib to find it's way into your collection. Daddy's love is true all year round with this adorable Cupid Shot Daddy Bib.
Posted on February 1st, 2010 by Bonnie Petrie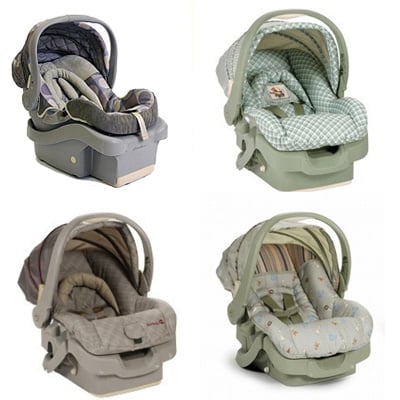 On Friday, December 18, 447,000 popular infant car seats were recalled by the U.S. Consumer Product Safety Commission, the National Highway Traffic Safety Administration, and the Dorel Juvenile Group, Inc. The recall came after 77 separate reports were made about faulty bolts on the child restraint handles of over 40 different models. Loose bolts caused the handles to partially — or in some cases fully — break loose from the car seat base, causing injuries to at least three babies.
Wondering if your car seat is involved in the recall? Here's the full list:
Child Restraint Model # – Product Descriptions
Safety 1st
22-057 DBY – Safety 1st Sojourn Travel System
22-085 DWA – Safety 1st Sojourn Travel System
22-057 CLN – Safety 1st Sojourn Travel System
22-057 HRT – Safety 1st Sojourn Travel System
22-322 HRR – Safety 1st Sojourn Travel System
22-322 PTK – Safety 1st Sojourn Travel System
22-057 LPH – Safety 1st Sojourn Travel System
22-085 LYN – Safety 1st Sojourn Travel System
22-322 KDL – Safety 1st Eurostar Travel System
22-322 LXI – Safety 1st Eurostar Travel System
22-322OLY – Safety 1st Eurostar Travel System
22-322PRS – Safety 1st Eurostar Travel System
22-322 MAI – Safety 1st Eurostar Travel System
22-325 COB – Safety 1st Eurostar Travel System
22-095 RBK – Safety 1st Explorer Travel System
22-380 LGA – Safety 1st Lite Wave Travel System
22-380 MSA – Safety 1st Lite Wave Travel System
22-627 WAV – Safety 1st Vector Travel System
22-325 PAC – Safety 1st Vector Travel System
Cosco
22-300 FZN – Cosco Sprint Travel System
22-300 OSF – Cosco Sprint Travel System
22-300 CSF – Cosco Spirit Travel System
22-300 JJV – Cosco Spirit Travel System
22-300 THD – Cosco Spirit Travel System
22-300 TWD – Cosco Spirit Travel System
Disney
22-627 AWF- Disney Propack Travel System
22-355 LBF – Disney Propack Travel System
22-305 NAB – Disney Propack Travel System
22-305 PPH – Disney Propack Travel System
22-355 PWK – Disney Propack Travel System
Eddie Bauer
22-627 CGT – Eddie Bauer Adventurer Travel System
22-627 FRK – Eddie Bauer Adventurer Travel System
22-627 SNW – Eddie Bauer Adventurer Travel System
22-627 WPR – Eddie Bauer Adventurer Travel System
22-627KGS – Eddie Bauer Endeavor Travel System
22-655BYTE – Eddie Bauer Endeavor Travel System
What you can do now: If you own one of the recalled infant carriers, stop using yours immediately and order a free repair kit now by heading to the Dorel website or by calling Dorel directly at (866) 762-3316 between 8 a.m. and 5 p.m. EST Monday-Friday.
Don't forget, you can get your car seat installation checked out for FREE! Go to http://www.seatcheck.org to make an appointment.
Click here for more about choosing the right baby gear for your baby.